The capital of Tennessee is the beating heart of country music and has plenty of sounds to get your blood flowing. But it also has a brainy side – great museums, grand old architecture, and the thriving university community compliment the bright lights and late nights of Nashville.
The Country Music Hall of Fame and Museum is a good place to start and a look into Nashville star-studded history. Artifacts like Elvis's gold Cadillac and Hank Williams suits are enshrined like religious relics.
The nearby Ryman Auditorium is also hallowed ground and hosts a wide array of contemporary acts. The Grand Ole Opry variety show took place here for 31 years until it moved out to music Valley in the Opryland Complex in 1974. An Opry performance is still a Nashville highlight.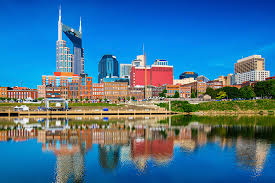 Cobblestone paved Printers Alley used to be home to the city's thriving printing industry. Now it's the heart of the district downtown where tourists hunt for tacky souvenirs, western wear, and mid-day beer. Stop in Gruhn guitars to pluck master crafted instruments worth more than automobiles.
Cross the buzzing Vanderbilt University campus to Centennial Park where you can gawk at a full-size plaster model of the Athenian Parthenon. Nearby, Manuel sells couture cowboy. Manuel has dressed just about everybody; you put Johnny Cash in black, Elvis in a gold lame suit and Ronald Reagan in lots of things.
The East End neighborhood is home to the Five Points. The art galleries, cafes, and night spots make this Nashville's newest hip destination a favorite local hang. Take a short trip out of town to Hermitage the former home of the seventh President Andrew Jackson. The thousand-acre compound affords a look in the 19th-century plantation life.
Belle Meade plantation is where the Harding Jackson family began raising thoroughbreds in the early 1800s. Today's Kentucky Derby horses all have a common ancestor in Belle Meade, Sir Bonnie Scotland who died in 1880. Head back downtown for a bite and you will find a wealth of local flavor like the classic meat and three, a heaping portion of greasy meat with your choice of three home-style sides. Arnold's country kitchen is as good as it gets. Monell's is a family-style sit down with a gut-busting array of down-home delicacy.
When night falls, Lower Broadway is the spot for beer and guitar-fueled nightlife. Crowds of tourists wear crisp new cowboy boots to the Honky Tonk. The floorboards vibrate every night of the week. A proper night out in Nashville should leave your ears ringing, your stomach stuffed, and your legs exhausted